Russians take New York for the night
© 2004 © Bob Atchison www.alexanderpalace.org New York, March 12, 2004

Story and Photos
by Nick Nicholson
New York, March 12, 2004
St. Petersburg and Moscow had nothing on New York last night. Within blocks of each other, two events occurred which showed that the new Russia is alive and well, supported by its newest billionaires and its most ancient aristocrats.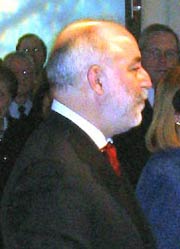 At Sothebys, Tiumen-BP billionaire Viktor Vekselberg (seen here) hosted a party for his family and New York's art elite to show the former Forbes collection to New York one last time. Speaking through an interpreter, Mr. Vekselberg said "Russia is a great nation, and to great nations come great responsibilities. For Russia to have a future, it must own its past, both the good as well as the bad. Russian businessmen and industrialists must accept the responsibility to support cultural and charitable activities."
Standing with his wife, Marina, and his two good-looking children, Mr. Vekselberg apologized if he appeared nervous. "This is the first time we have ever appeared in front of such a distinguished audience," he said, "and we apologize if we appear that way." Bill Ruprecht of Sotheby's announced his pride that the auction house was able to participate in such an important historic event as the return of the Faberge eggs to Russia. The party was a mix of art dealers and figures of interest, including Faberge specialist Archduke Geza von Habsburg and his wife, Elizabeth, Faberge scholar-dealers Paul Schaffer and his brother Peter of A La Vieille Russie, dealer Andre Ruzhnikov, and two American owners of major Faberge collections. It was widely rumored at the party that after a tour of Russia, the collection will sit in storage until the Vekselberg Foundation can build a museum to house them.
At the Russian Consulate, the Russian Nobility Association hosted its annual pre-ball cocktail party which served the dual purpose of announcing the charities which the dance will benefit, and the distribution of invitations. The Russian Consulate, built as a mansion for one of the Vanderbilt daughters, is now a showcase for Russian restoration talent. The house, which sat derelict for many years, was recently restored in the style of a St. Petersburg palace of the Imperial Era, with richly gilded details, and floors stained in imitation of the floors of Russian palaces.
Prince and Princess Vladimir Galitzine each spoke to the crowd, encouraging them to give generously to the Association, which in addition to providing genealogical and historical guidance, also donates generously to hospitals, orphanages, Orthodox religious institutions, and cultural organizations inside and outside of Russia.
The sophisticated crowd at the consulate included Count and Countess Nikita Cheremeteff, Mr. and Mrs. George Naryshkin, Baroness Maya von Haynau, Prince and Princess Grigorii Galitzine, seen here below are also Tatiana Rodzianko and her husband Anatoli Samochornov, and well as Countess Marina Woronzoff-Dashkoff. The party, which ended unceremoniously as Consulate officials turned off the lights in the ballroom in an effort to encourage the nobility to leave, was genial and familial in contrast to Sotheby's formal event.
"Well," said Princess Galitzine, "It is to be expected. We've all known each other for generations." When asked what she thought of the Sotheby's event, she smiled. "It gives me great pleasure to hear that the Russians are relearning the act of charity. Russia today is vastly different from what it was six years ago, and eleven years before that." Before leaving, she had one last comment: "Vekselberg called me today to ask why we weren't coming to his party. I explained what we were doing here tonight and he understood." She smiled. "Who knows...perhaps someday, we'll do something together."