Easter Treasures From Faberge
April 11, 2004
By Bob Keefer
The Register-Guard
© 2004Copyright 2004 The Register-Guard
unless labeled as being from the Associated Press (AP),
in which case Copyright 2004 Associated Press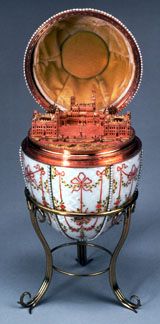 For most of us, Easter eggs mean real eggs, hard-boiled, colored and decorated with crayons or stickers and perhaps hidden on the lawn or in the gardenx for children to discover.
But for members of the Russian imperial family at the beginning of the 20th century, they meant something else entirely: exquisite hand-crafted little enameled jewels, decorated with gold, diamonds and rubies, from the workshop of Carl Faberge.
Beginning in 1885, Faberge and his craftsmen created 50 of the now-famous eggs for Czar Nicholas, who gave them to his wife and to his mother for Easter gifts before the Russian Revolution ended the dynasty after World War I.
The Rose Trellis Egg is decorated with a latticework design studded with diamonds.
Among the collection of Faberge eggs at the Portland Art Museum is the Imperial Gatchina Palace Egg.
The czar and his family were killed by revolutionaries in 1918. But 42 of the Faberge eggs survived - the rest are lost or hidden in private collections unknown to the world - and you can see five of them at the Portland Art Museum at an exhibit that runs through May 9.
Each egg is different and each is spectacular. Each opens up to reveal hidden treasures inside. Perhaps the most famous on display in Portland is the Rose Trellis Egg, given to the czarina in 1907. Studded with scores of diamonds on the outside in a latticework design, the egg contained a diamond necklace replica and an ivory miniature.
The Imperial Gatchina Palace Egg, given to the dowager empress in 1901, opens up to reveal a golden replica of a palace, with tiny cannons, lamp posts and trees on the palace grounds.
A more austere version of imperial luxury can be seen in the Red Cross Egg, given to the czar's wife, Alexandra, in 1915. The egg is plain cream in color with red bands forming crosses on the outside; at the cross junctures are miniature portraits of Grand Duchesses Olga and Tatiana wearing Red Cross uniforms; inside is a gold miniature of the harrowing of hell, along with miniature portraits of saints Olga and Tatiana.
Other eggs on display are the Gold and Agate Easter Egg from about 1900, about which little is known historically, and the Lapis Lazuli Egg of 1886.
Also on display at the museum are several dozen other pieces from the Faberge workshop, including numerous tiny animal figures.

IF YOU GO
The Portland Art Museum is at 1219 S.W. Park Ave.
Hours: 10 a.m. to 5 p.m. Tuesday, Wednesday and Saturday; 10 a.m. to 8 p.m. Thursday and Friday; and noon to 5 p.m. Sunday.
Admission: $15 adults, $13 for seniors 55 and older and students over 18; $6 children 5 to 18; and free for children 4 and younger.